One of my hobbies is driving and over the years I have driven along the coasts of Japan eating all kinds of fresh seafood at restaurants in seaside towns all over Japan!
I had heard that truly fresh fish, which I thought I could only taste if I went far away, can be eaten at Tokyo Station. This time I interviewed Mr. Ryohei Nomoto, President of Haneda Ichiba Co., Ltd. who is the driving force behind a system that distributes fish caught in the countryside to the Tokyo metropolitan area with the same freshness as the source.
During the interview, President Nomoto said, "I am proud to say that I am the most knowledgeable person in Japan when it comes to food distribution." The man who knows the most about food distribution in Japan emphasizes the importance of temperature control for the safe distribution of fresh, delicious fish at a low price.
| | |
| --- | --- |
| Date | October 2020 |
| Place | Haneda Airport Office of Haneda Ichiba Co.,Ltd. |
| Models in Use | TR42, TR-72wb |
| Purpose | Monitoring Temperature during Seafood Transportation |
Q: First, can you give us a short introduction of Haneda Ichiba?
Mr. Nomoto: The impetus for founding this company came when I realized the value of freshly morning-caught fish while working at my previous job at a conveyor-belt sushi and izakaya (Japanese-style pub) chain.
We planned a restaurant that would serve fresh fish caught that morning, we bought some small fixed net ourselves, hired a fisherman, and airlifted that fish to our customers, which turned out to be an incredible hit! At that time, I was convinced that morning-caught fish could definitely sell.
However, there was a problem: even though the fishermen would send their early morning catches so that they arrived in Haneda by 9:00 a.m., the fish would be then get passed onto an intermediary and would not get delivered to us until around 11:00 to 12:00 p.m. And if a plane was a little late we wouldn't get the delivery until 1 or 2 in the afternoon. So for any restaurants or shops that were a bit far from Haneda there was no way to get the fish to them for same day use. That is when I realized to be successful we needed to move our whole operation within the grounds of Haneda Airport(*).
We knew that if fish caught on various coastlines could be served fresh in the Tokyo metropolitan area on the same day, the profit would increase five or six times!
――If the value of truly fresh fish makes it so that they can be sold at a higher price in the Tokyo metropolitan area, that is a great advantage for everyone, including the local fishermen. With that in mind, "Haneda Ichiba" got its start in 2014.
(*)Haneda Airport is conveniently and centrally located about 15km (less than an hour) from most of Tokyo's biggest neighborhoods. In the past 10 years it has become the major hub for travelers to and from the Tokyo metropolitan area. Until 2010, Haneda Airport, officially called Tokyo International Airport, was mainly used as domestic flight hub, but that changed with the launch of a large new international terminal in that year. Haneda is now the most convenient airport for getting into and out of Tokyo. The airport's three terminals now allow passengers to not only connect to destinations all across Japan, but also, to destinations around the world; making it one of the busiest airports in the world.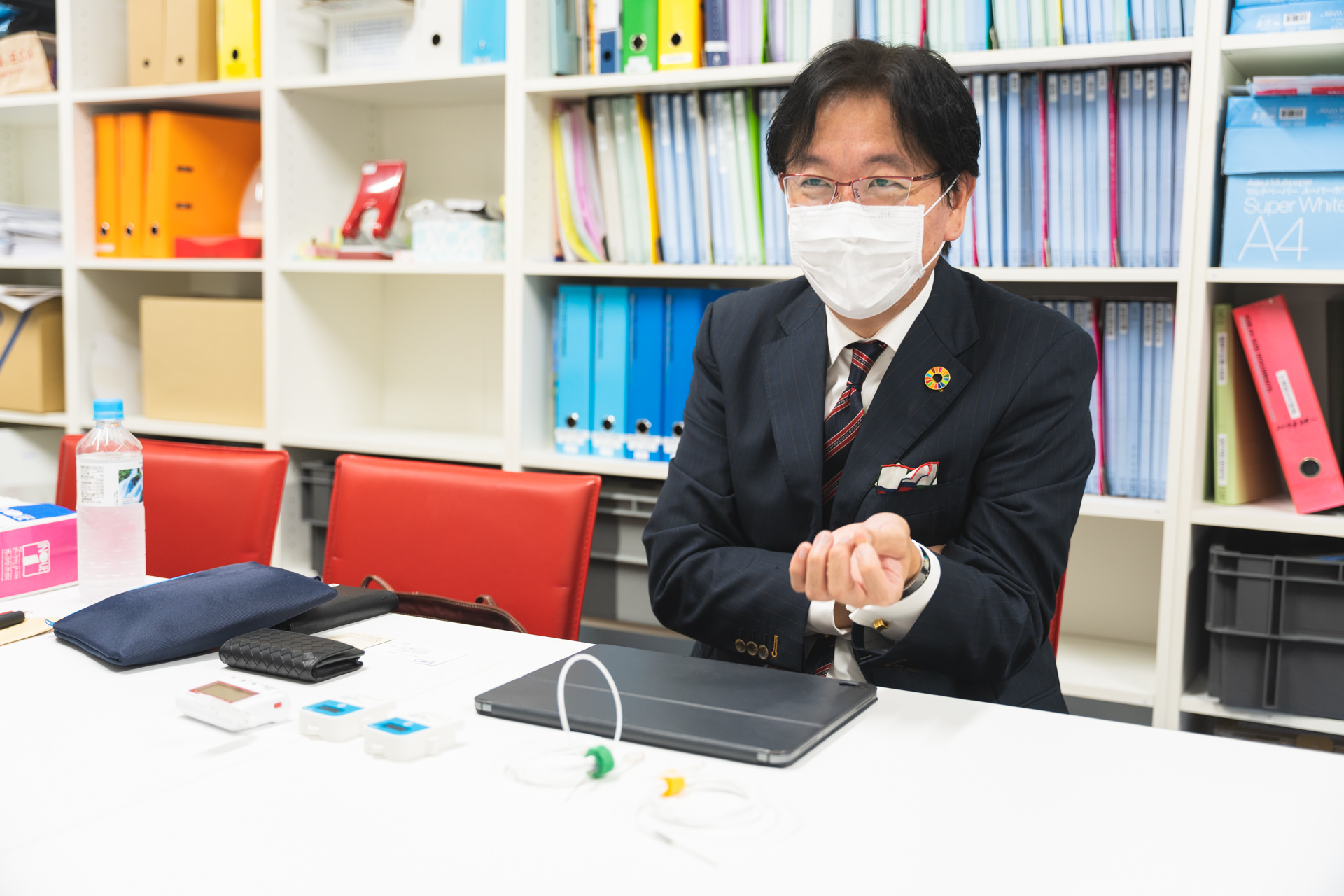 Q: What is the business model of "Haneda Ichiba" and what are its unique strengths?
Mr. Nomoto: Fish are shipped directly from fishing ports throughout Japan to the Tokyo metropolitan area via airplanes, bullet trains, express trains, and express buses. Fish caught in the morning can be on store shelves in as little as 6 hours!
――I saw on TV that your company provides fresh fish directly to stores and consumers without going through the central market, right?
Mr. Nomoto:  Yes, basically, we connect producers with stores and consumers without going through the central wholesale market.
When I founded this company, Tsukiji Market was the dominant market when it came to handling fish, but in order to beat Tsukiji, we had to do what Tsukiji could not. And that was air transportation. We can buy fish from fishermen at a fair price and provide better fresher products to consumers at a lower price. That being said, we also do business with the Japan Fisheries Cooperatives and the Toyosu Central Wholesale Market. We try to build the best distribution for each situation.

I like to call this "distribution design". I started helping my family's food processing company when I was a small child, and if I count all the years since then, I have been in the food distribution business for about 50 years. I think I am probably the most knowledgeable person in Japan when it comes to food distribution. I have never met anyone who knows more than me. That is why this distribution design capability is our greatest strength.
When the Covid-19 pandemic caused fish sales to drop, we got through it by opening an e-commerce site to deliver fish to those who couldn't or didn't want to leave their houses.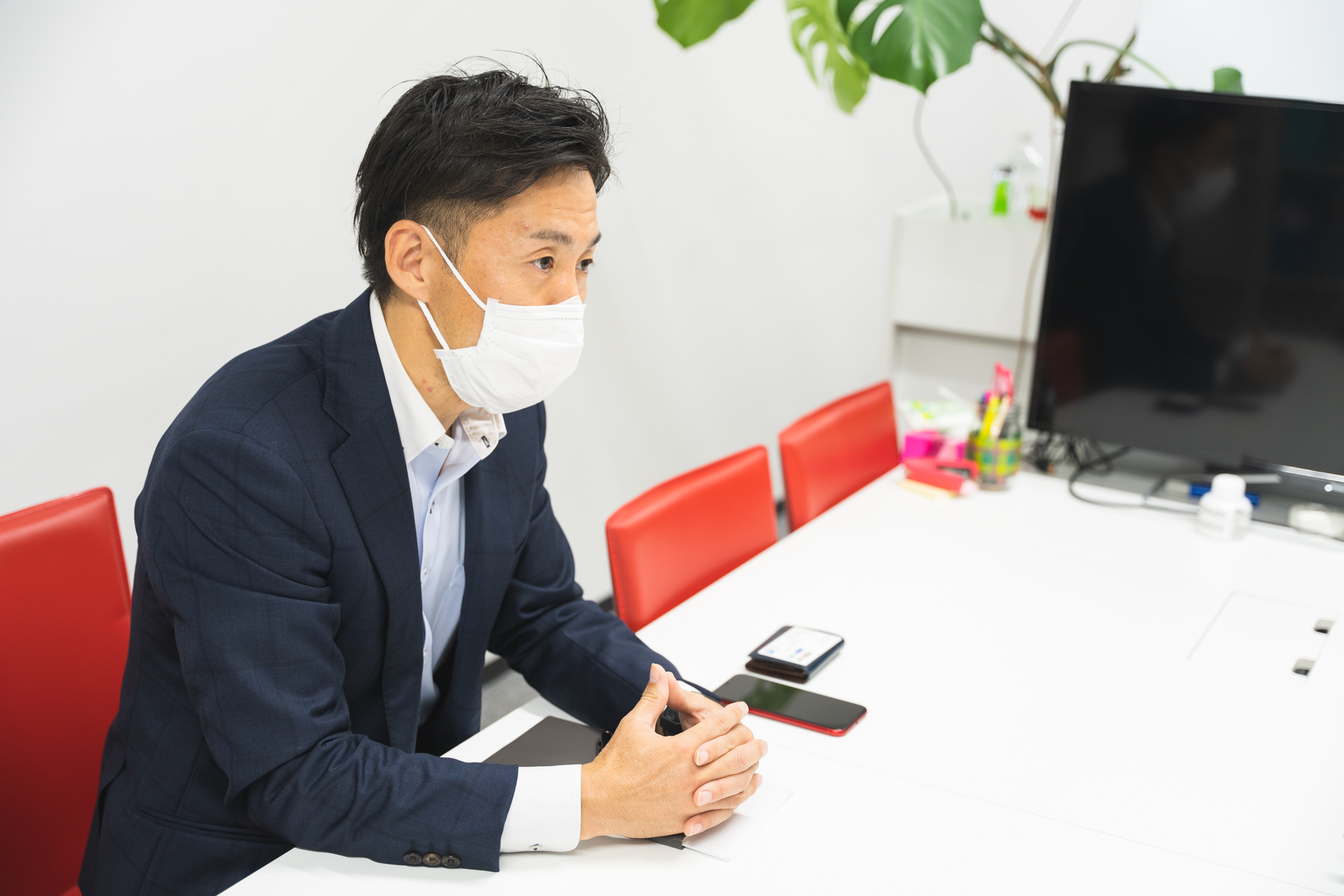 Q: How do you use T&D data loggers?
Mr. Nomoto:  When we start a transaction with a new customer or when we open a new route, we always carry out a transport test using a T&D logger.
In fact, I use my very own logger.
――You have your OWN logger?
Mr. Nomoto: Yes, I carry it with me all the time. 
When fish are transported by bullet train or highway bus, the outside air temperature and humidity, the surface temperature of the fish, and the core temperature of the fish are monitored from a tablet using Bluetooth communication.
Fish are transported in a Styrofoam box with ice, and a TR-72wb logger is attached to the outside of the Styrofoam to measure the outside temperature and humidity. We also use a TR42 logger to measure the core and surface temperatures of the fish and monitor the correlation between the respective data.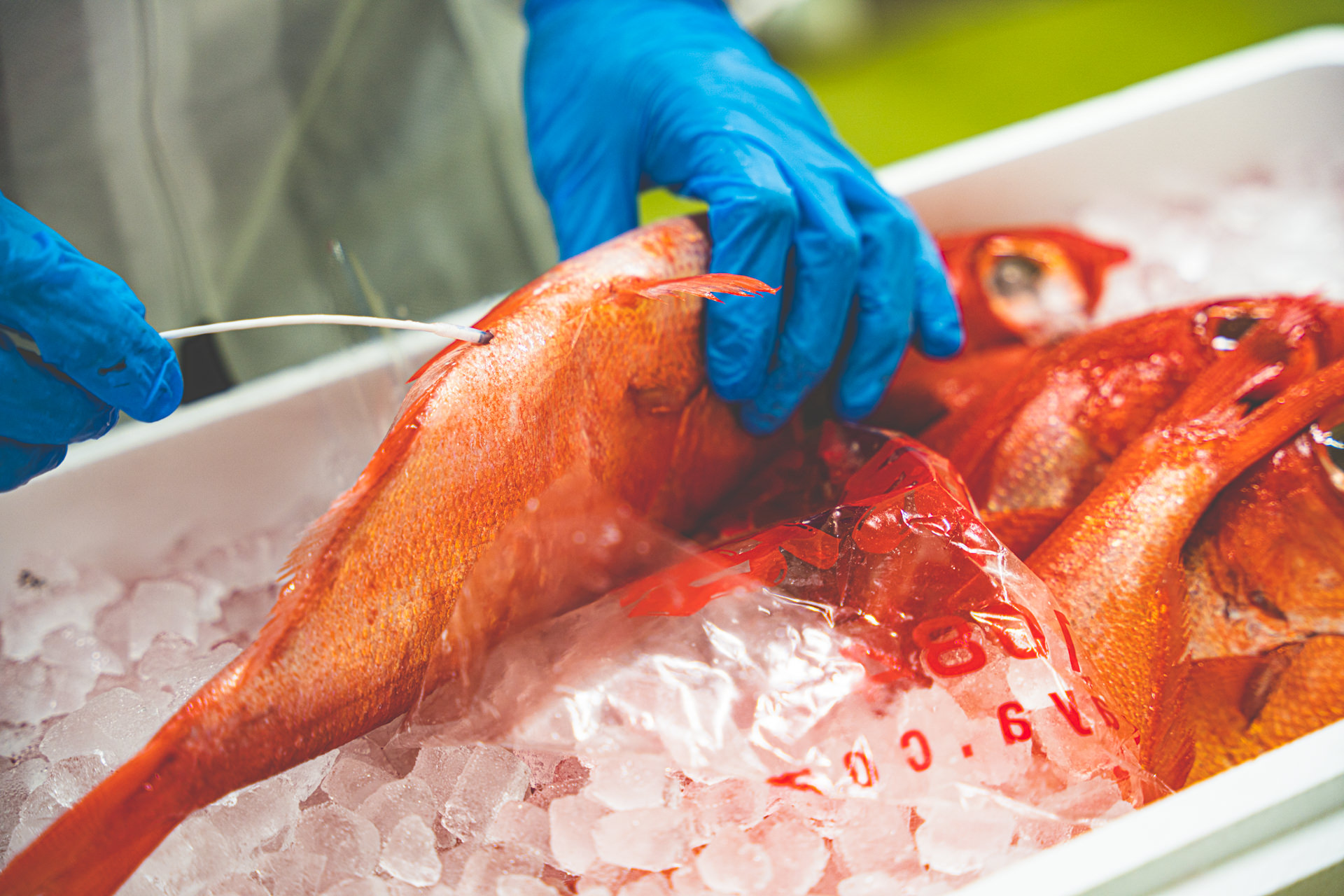 Mr. Nomoto:  Especially when transporting live fish, if the fish are too cold, they die, and if the temperature is too high, they get out of control. When a fish loses control it produces excrement, and the fish is then weakened by its own excrement. 
We previously conducted a transportation test at the end of July using the trunk room of an express bus. Before the test, we expected the temperature in the trunk room to rise to about 60°C, but when we monitored the temperature from our seats with a tablet while driving, we found that the temperature in the trunk was surprisingly not much different from the temperature in the seats. When the interior air conditioning kicks in, the temperature in the trunk room also drops quickly. We had assumed that the temperature of the fish would rise to some degree, but the results of this test showed that even in mid-summer, we did not need that much ice.
Mr. Nomoto:  Fish should be transported at temperatures below 10°C (50°F). To be even more succinct 4°C (39°F) or below is absolutely ideal. 
If one wants to use air transport, the weight of the ice is directly added to the fare. So you don't want too much ice nor do you want not enough ice. After determining the appropriate amount of ice, it is very important to closely monitor and maintain the temperature.
Q: Would you mind telling us why you decided to start using T&D data loggers?
Mr. Nomoto: I have been using them so long I pretty much forget when and why! My family ran a company making vacuum cooked side dishes, and we T&D loggers were always a necessary part of our business. As far as I can remember we used them, there was no real decision on my part, they were always just a necessary part of what we did. Sort of like a part of home, or something; just like mom's cooking.
Over the years I have lost quite a few and always replace them with a new one each time! (LOL)
Even though over the years the loggers sure have evolved and advanced, they still remain simple and easy to use.
――Thank you!! The features have advanced but the operation remains simple! That is indeed the "heart" of our product development policy.
Q: Can you tell us a little more about what makes them easy to use?
Mr. Nomoto: It is great to be able to see the temperature data at all times from your seat on the bullet train or the highway bus using Bluetooth.
The inclusion of Bluetooth functionality was truly revolutionary. I am pretty confident in my knowledge about transporting fish, but I still find it very helpful seeing the temperature in real time.
This summer, in our first attempt to transport fish via express train, we used the Izu-no-Odoriko line to transport some sea bream, and even when the outside temperature in Shizuoka Prefecture exceeded 40°C (104°F), the temperature of the sea bream in the box did not rise that much.
Until now, only the surface temperature was measured with an infrared thermometer when the fish arrived, but this time using a TR42, we were able to see the temperature of the internal organs and even the inside of the belly in real time.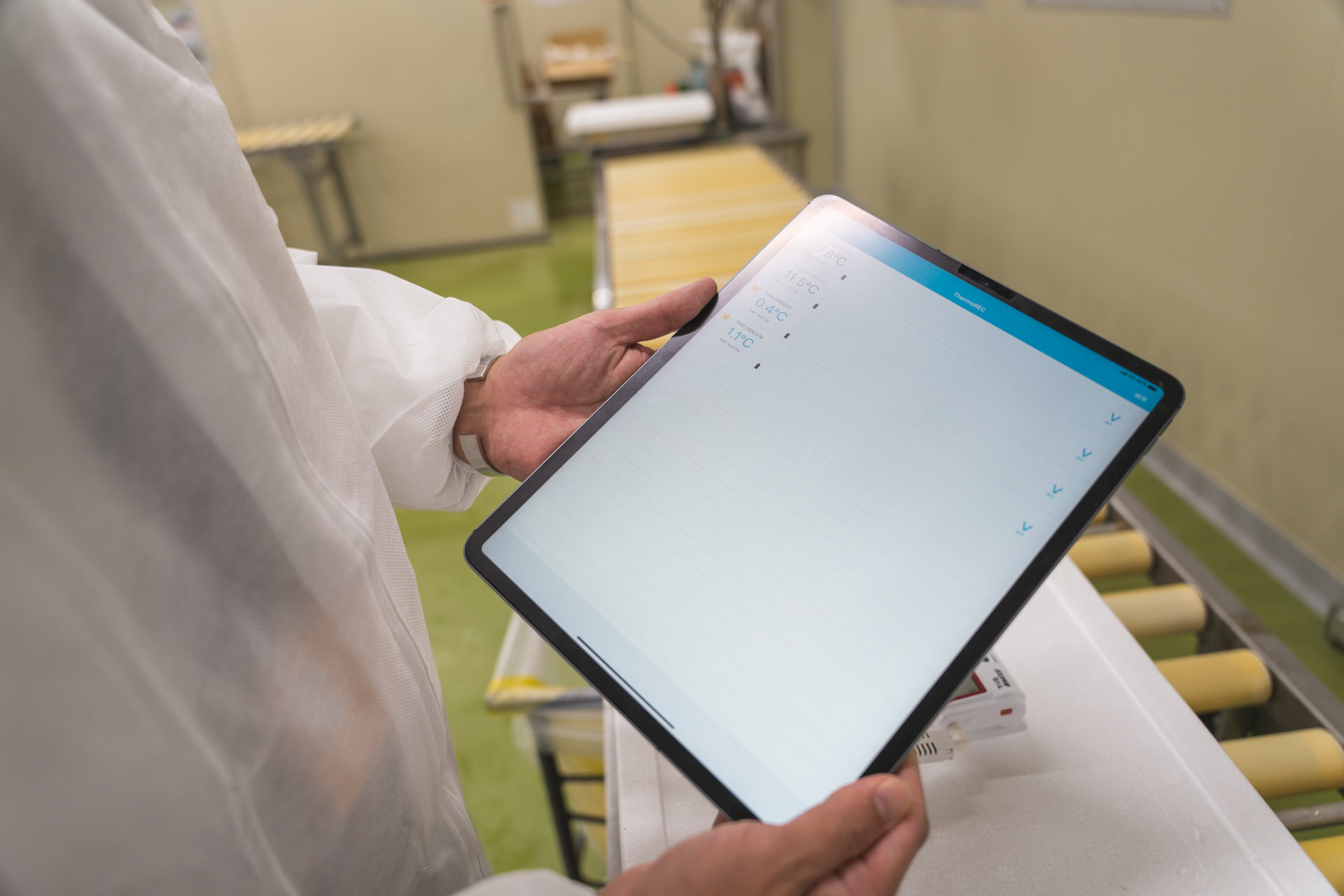 Mr. Nomoto: We used to catch mackerel in the morning, but the quality dropped and customers complained. So I used a T&D logger to measure the temperature and found that even though the surface was cool, it was not cool enough to cool down the internal organs. When this happens, the mackerel flesh starts to peel off from the bones. Now, this only happens with mackerel. Until then, I had insisted on transporting freshly morning caught mackerel, but I realized that mackerel needed to be chilled thoroughly for at least eight hours before shipping. The freshness of mackerel deteriorates so quickly they even have a special phrase for it in Japanese "Ikigusare" where it appears fresh on the outside but is actually rotting on the inside. Mackerel can keep remain in good quality for about three days if you take the time to cool it down all the way to its innards before transporting it! Catching mackerel in the morning and sending it off right away sounds great, but once I figured that out, I just made sure that the mackerel was cooled thoroughly before transporting it!
In this industry, there is a lot of work done based on intuition, but I knew what I was doing for sure because I used one of your loggers to measure the temperature of the internal organs.
――Using Bluetooth to easily monitor real time temperatures from your seat while in transit; this is indeed just one of the kind of ways we envisioned our Bluetooth-equipped products to be used!
Q: Do you have any ideas or suggestions for future T&D data loggers?
Mr. Nomoto: I have no complaints at the moment. 
The addition of Bluetooth communication has been really helpful; it is innovative and so convenient.
But if I had to name one thing, it would be great if I could view data from different models on the same tablet screen. It's a bit of a hassle to switch apps for each model, and it would be more convenient to monitor data from multiple models all at once on one screen.
— When President Nomoto first tried to open the Haneda Ichiba center in the airport, he faced some fierce criticism because of the unprecedented nature of the project. People said things such as: "What kind of a stupid idea is it to handle knives in an airport?" and "You know there is no drainage system for fish processing in the airport."
However, President Nomoto persevered. Using "regional development" as his keyword, he persuaded the minister in charge at the time to open a fish processing center inside Haneda Airport; an unprecedented undertaking!
As a result, as mentioned at the beginning of this article, sushi made with the freshest and finest fish, as fresh as at the place of origin, is now available at Tokyo Station!
Before this interview, I had lunch at the "Conveyor-belt Sushi Haneda Ichiba" in Tokyo Station, and ordered fresh hirame (flounder) from Ajigasawa in Aomori and kawahagi (thread-sail filefish) "liver" which had just arrived from Hokuriku!
Both were superb cuts of perfectly temperature-controlled fish!