For storage of Covid-19 vaccines, the most important part is temperature management. So, how exactly is temperature managed for this most precious vaccine?
We decided to speak with the International Medical Center of Saitama Medical University in Hidaka City, Saitama Prefecture, about how they are managing temperature for Covid vaccines. We interviewed Mr. Asami, Manager of the Pharmaceutical Department, and Mr. Yoshizawa of the General Affairs Section of the Administrative Department.
This is the second time we have visited the Saitama Medical University International Medical Center for our Ontorism blog. We sincerely thank them for sharing their time and important story with us.
| | |
| --- | --- |
| Date: | December 2021 |
| Place: | Saitama Medical University International Medical Center |
| Models in Use: | RTR-500NW, RTR505B |
| Purpose | For Covid-19 Vaccine Temperature Management |
Q: Can you tell us about the effects or changes that the Covid pandemic has brought to your hospital?
Mr. Asami: The list is endless, but from the standpoint of the pharmaceutical department there have been shortages of medicines and delivery stoppages as well. One medicine has been found to help prevent thrombosis in Covid patients and hence we are reluctant to use it as we had before in non-Covid cases.
For the hospital as a whole, wards have been built specifically for Covid patients, and staff have been reassigned to cope with this unprecedented situation. Even in the case of emergency medical services, the time it takes to treat each patient has increased because when a patient arrives they must first be tested for Covid, and this in turn has forced the entire medical system to adapt and change dramatically.
—Of course, I had heard about the plight of medical institutions in the news, but it seems that the medical field is experiencing a burden beyond my imagination.
Q: Does the International Medical Center offer Covid vaccinations?
Mr. Asami: At the International Medical Center, the first step was to inoculate our staff, followed by their families. Also, in December 2021, a third vaccination for staff, the so-called booster vaccination, began.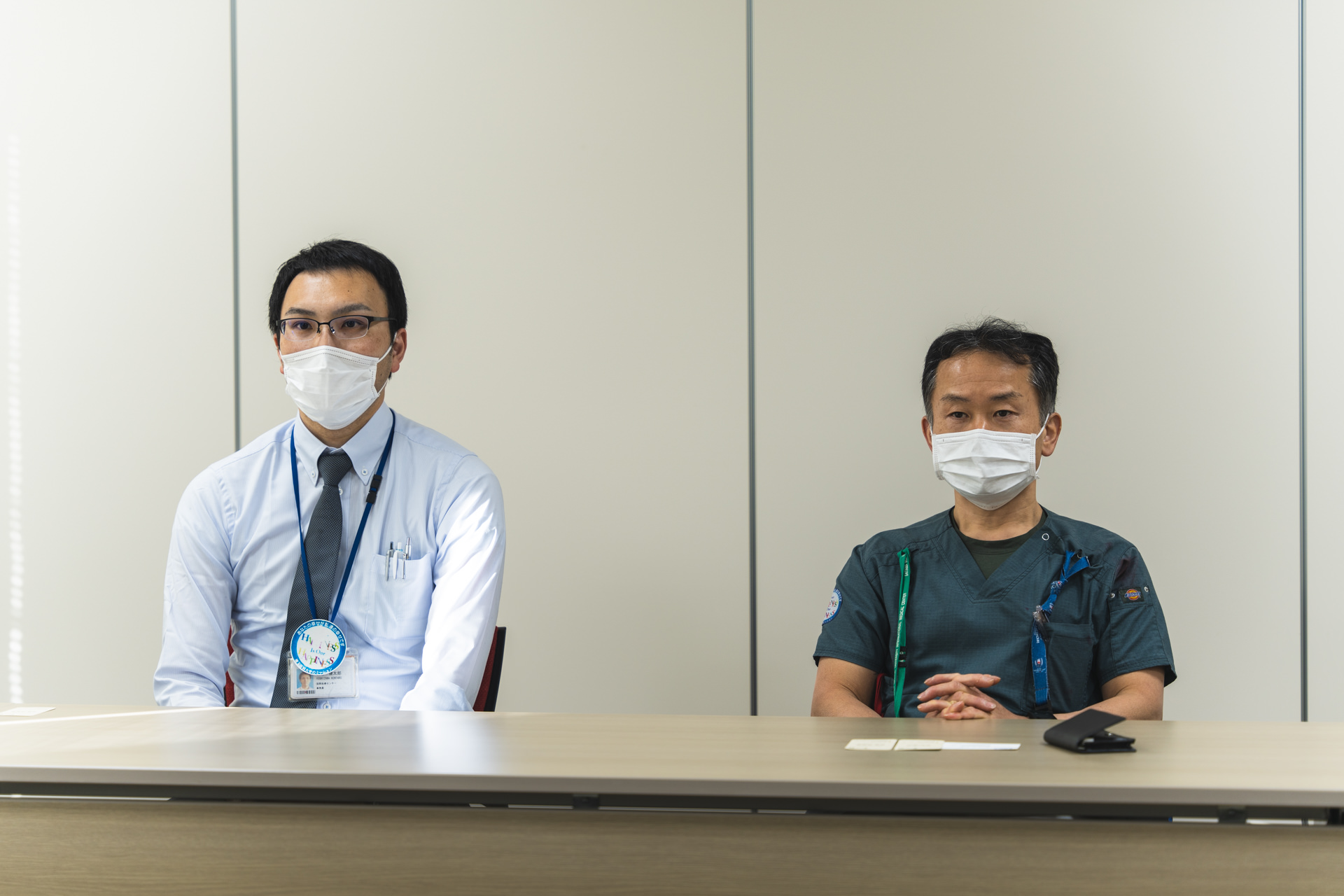 Q: How do you store the Covid vaccines?
Mr. Asami: They are stored in freezers loaned to us by the national government.
We used Pfizer's vaccine for staff vaccinations and Moderna's vaccine for family vaccinations. We were loaned a special freezer for each vaccine. The freezer we use to store the Pfizer vaccine is kept at -80°C and the freezer for the Moderna vaccine is at around -20°C.
Q: What is most important in storing these Covid vaccines? Is there anything that you pay special attention to in terms of management?
Mr. Asami: Well, the most important element is managing and controlling temperature.
There are specific temperatures for each step of the process, both in storage and in preparation for inoculation, and it is important to maintain the vaccines at their appropriate temperature before inoculation.
Other than that, it's important that they not be exposed to light and vibration. We were especially careful in handling the Pfizer vaccine because it has a very low storage temperature and is said to be sensitive to vibration when frozen.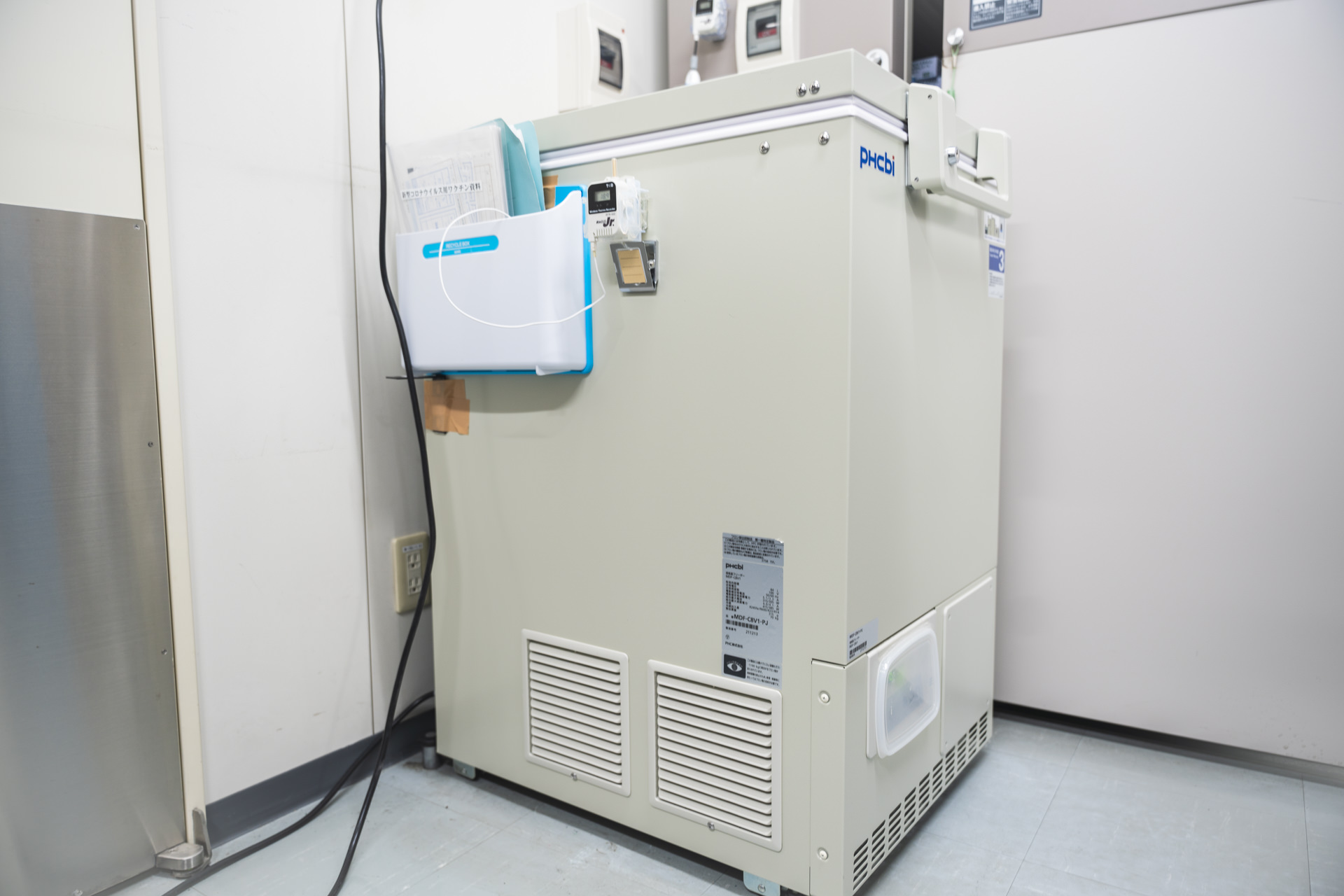 Q: Which type of devices are you using for temperature management?
Mr. Yoshizawa: We are using the RTR-500NW as the Base Unit to collect data and RTR505BL loggers equipped with Pt100 type sensors to measure and record temperature.
—The International Medical Center has been using similar T&D loggers for several years. (Go to older story)
We are very grateful for choosing our products again!
Q: I heard that the freezers distributed by the government also come with temperature loggers as standard equipment. Why did you decide to use T&D products instead?
Mr. Asami: Yes, I'm pretty sure the freezer we were loaned came with a temperature logger as well.
At first I tried setting it up, but the temperature logger that was included was not capable of 'monitoring' so I wasn't able to see the 'real time' temperature. Of course you could extract data, but you had to open the freezer door to do so, and the data you could access was historical data, so by the time you checked the data, several days had already passed since the temperature was logged.
Another very important factor for us is the 'warning monitoring' function that the T&D product has. The temperature logger that came with the freezer also sounded an alarm on the spot if the temperature deviated, but the alarm was too quiet and it also meant that someone had to be nearby all the time to notice the alarm condition.
If we hadn't known about T&D loggers, we would have used the temperature loggers that came with the freezers, but since we had been using your products for temperature management for pharmaceuticals we knew they were easy to use and had the functions we were looking for. In fact, before the vaccines arrived, I had already put your loggers in the empty freezers as a simulation.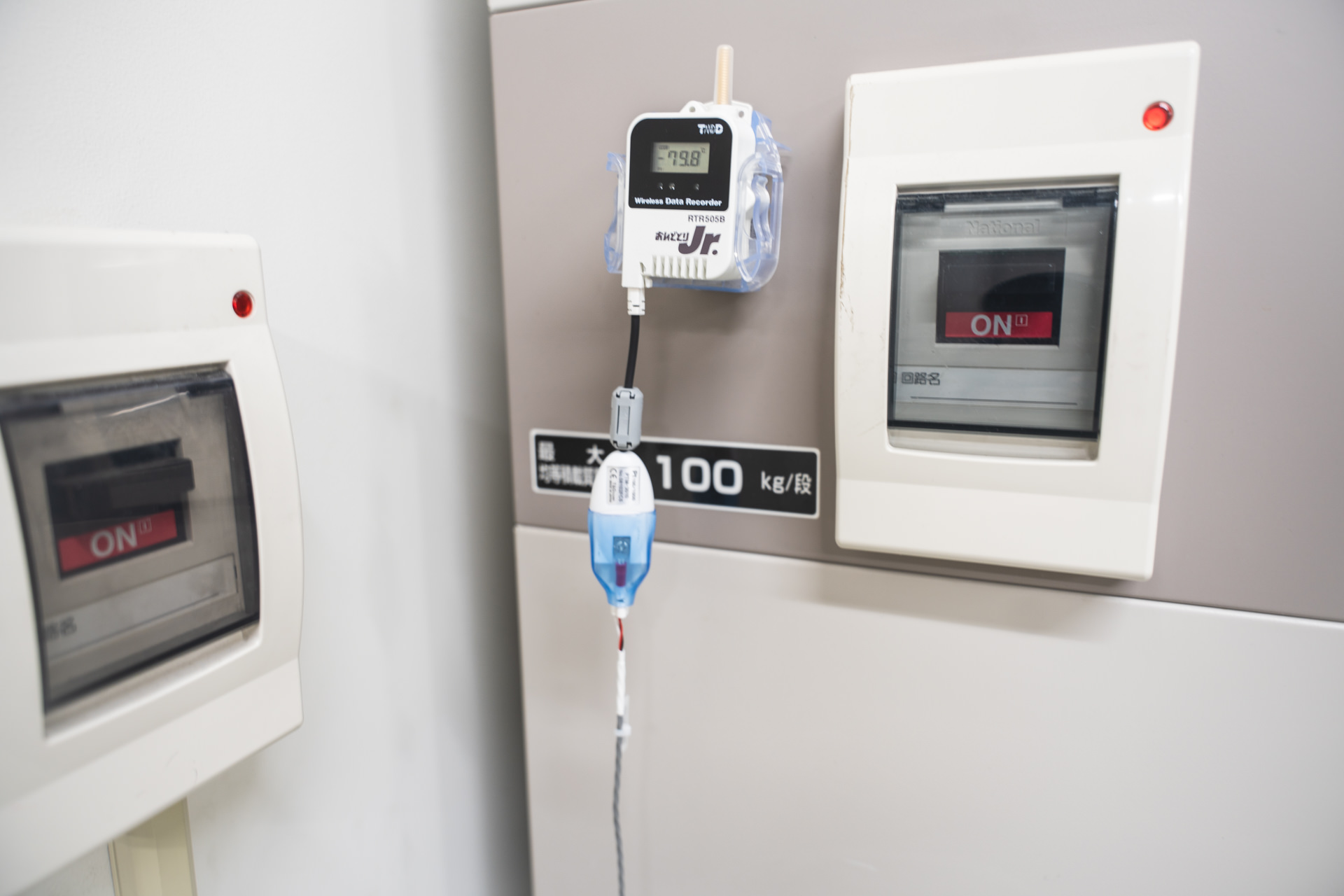 Q: What are your impressions of using T&D devices for vaccine temperature management?
Mr. Asami: By using the "T&D WebStorage Service(*)", it is possible to access and check temperatures from "anywhere at anytime". And if there are any deviations in temperature, a warning email will be immediately sent to the person in charge. Besides the warning notification email, an alarm is set up to sound in the pharmacy; making sure that we never miss any deviations from acceptable temperatures. Using T&D devices has been a great help.
*T&D WebStorage Service is a free cloud-based service provided by T&D Corporation.
Mr. Asami: On days we went out for inoculations, we first prepared the vaccines at the pharmacy and then went to the vaccination site, but at the site, I sometimes worried about whether I had closed the freezer door properly.
Especially since the freezer for the Moderna vaccine is of small capacity, I worried that the inner lid might shift and leak cold air. Nevertheless, being stationed at the vaccination site, I wasn't able to go back and check the freezer.
But with your loggers, I was able to check the temperature using T&D WebStorage Service from my phone while I was at the venue. That gave me relief and made me really glad to be using T&D devices. I was also able to check the temperature at home, which was huge.
Mr. Yoshizawa: Covid-19 has really increased the burden on pharmacists and other health care professionals.
It's extremely different from pre-Covid days, but still the pharmacists must manage the vaccines. At such an important time, it is very helpful to have an "easy-to-use" and "smart" temperature management system. There was always a fear that something would happen to the precious vaccine and it would be wasted. If it weren't for T&D's temperature management system, pharmacists would have always been plagued with terrible anxiety.
I believe that your devices have not only reduced the need for manpower but also have provided mental stability to the pharmacists.
—We are truly honored to be of assistance. So, our loggers have been somewhat of a "tranquilizer" for the pharmacists!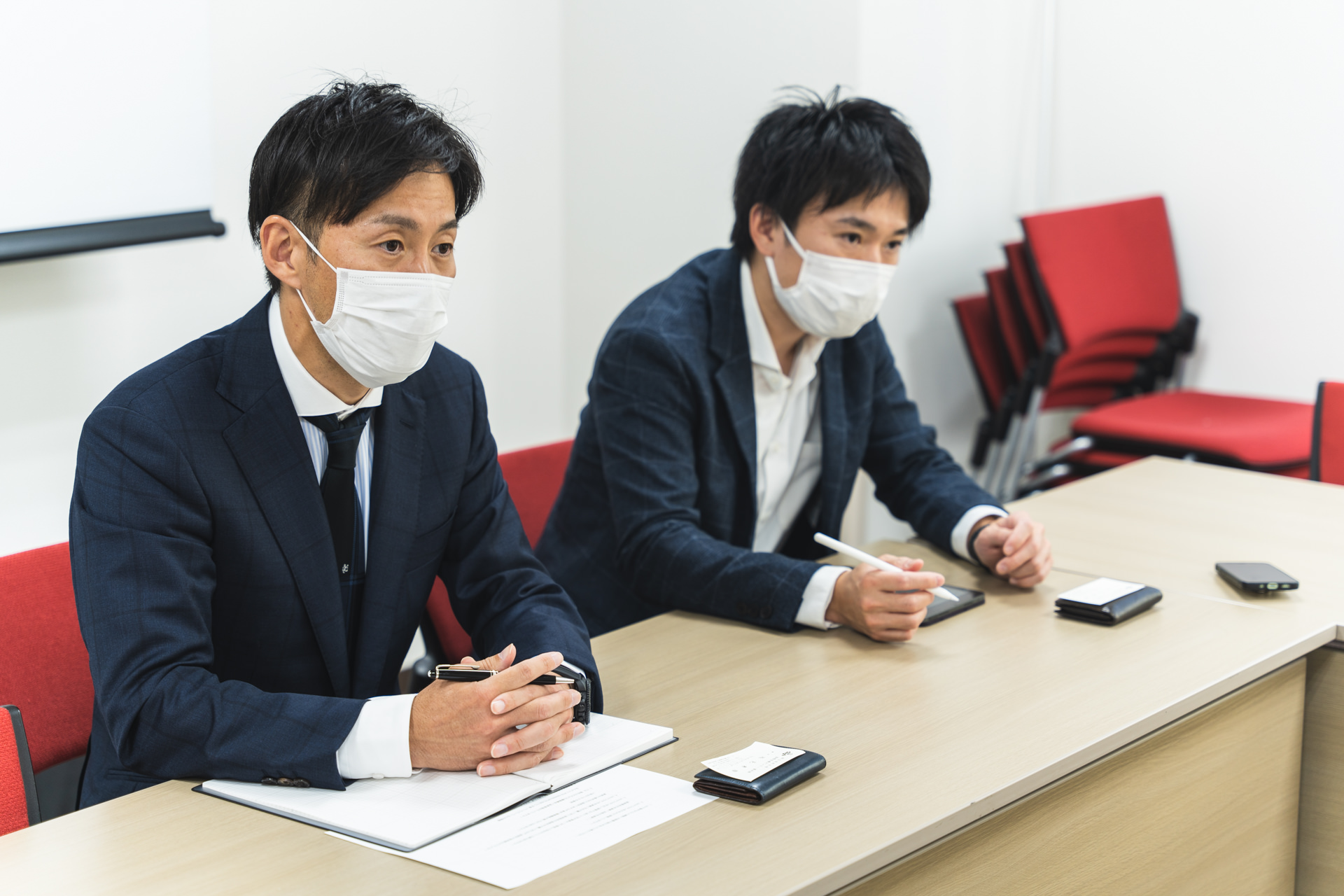 Q: Are there any points that you would like to see us change in order to improve the efficacy or ease of vaccine management?
Mr. Asami: One problem is that we have set the conditions for warnings too strictly, and the frequency of warnings has become so high that we have become accustomed to them. For example, sometimes the alarm is triggered after only a brief period of time when I open the freezer door to take out the drugs. Is there anything we can do about this?
Interviewer: The warning monitoring function has a setting for what is called 'warning judgment time'. With this setting, it is possible for a temperature deviation to occur during normal operation, but not to be judged as a warning. For example, if the temperature continues to exceed the upper limit of -20°C for '10 consecutive minutes' it will only be judged as a warning after that point. This feature will allow you to receive only the warnings that you really need.
As Mr. Asami said, the frequent issuing of warnings will lead to a somewhat dangerous situation like in the story of the boy who cried wolf. I think it is important to get only necessary warnings and create an environment where people know, 'I received a warning from my T&D logger and that makes it not just an ordinary thing'.
Mr. Yoshizawa: One problem we have is that the T&D WebStorage Service data storage capacity is insufficient.
We have more than 20 data loggers registered to one account, so we need to download the data frequently from the cloud in order to save it without losing it. Of course, I understand that this is a free service, but it would be nice if we could store the data for a longer period of time.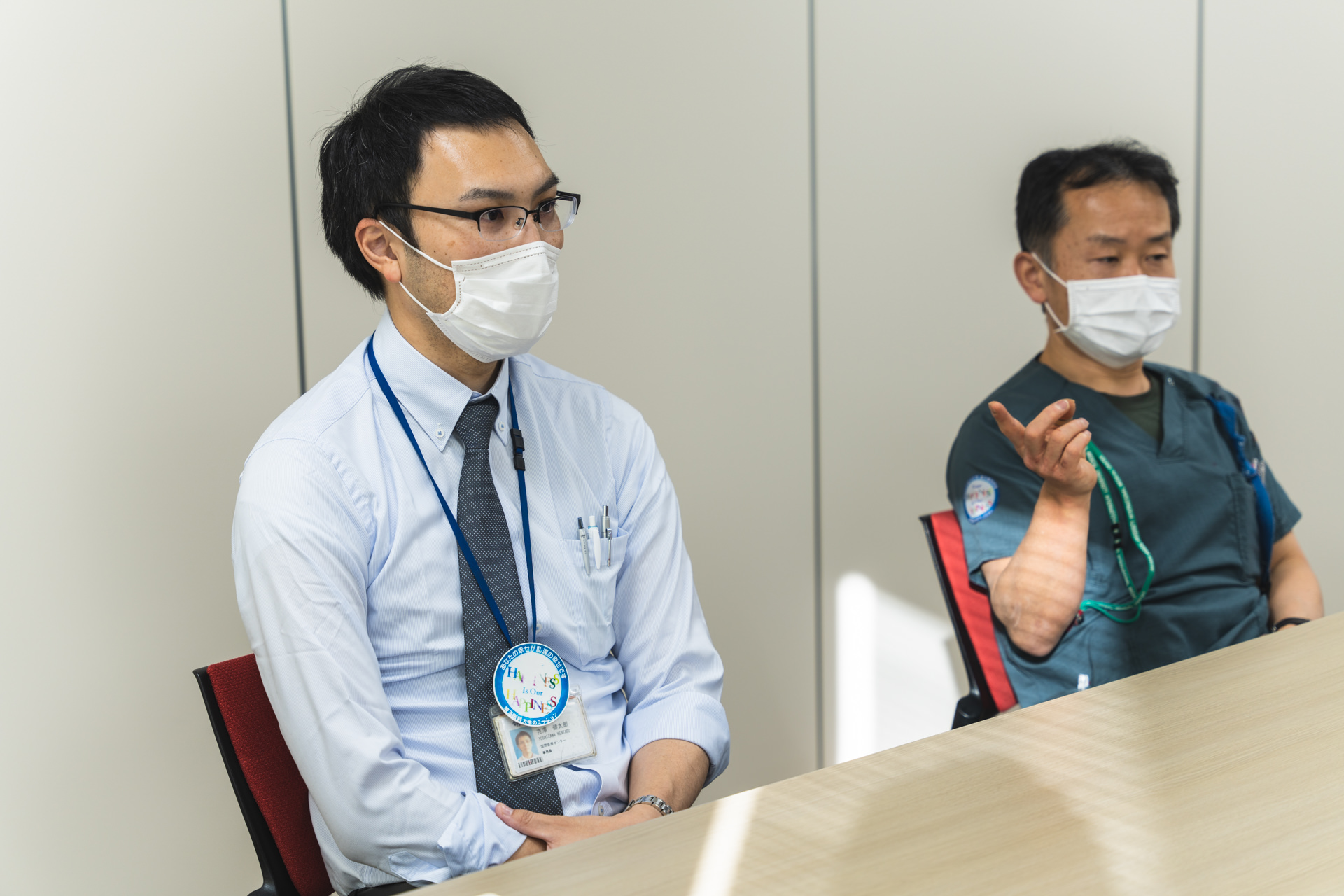 Interviewer: As you said, the current data storage capacity for T&D WebStorage Service is a flat 20MB per account. Since the number of loggers you use is not taken into account, we understand that the more loggers you use, the less capacity you will have. This is definitely something we need to think about for our customers.
—Through this interview, I learned that we, as a data logger manufacturer, have been helpful in the fight against the Covid-19 pandemic. We cannot make or administer vaccines or medicines, but we hope that our data logging systems can act as a "tranquilizer" to people who are struggling with temperature management in various fields.