In Jan 2019, we had the pleasure of talking with three members of the Saitama Medical University International Medical Center, a world class hospital known not only for its high quality of medical standards and service but for its state-of-the-art facilities. We spoke with Mr.Makabe, the deputy manager of the pharmaceutical department, Mr.Taji the technical director for the central clinical laboratory and Mr.Yoshizawa, the chief of the purchasing department about their recent decision to purchase T&D products for the systematic management of their important temperature data. Read more below about what influenced their decision to implement this approach and the benefits they have gained.
Date
Jan 16, 2019
Place
Saitama Medical University International Medical Center
Models in Use
Base Station: RTR-500NW (30 units)
Temperature Data Loggers: RTR-502L and RTR-505PtL (total of 110 units)
Purpose
Temperature management of pharmaceuticals, specimens, blood products, and foodstuff.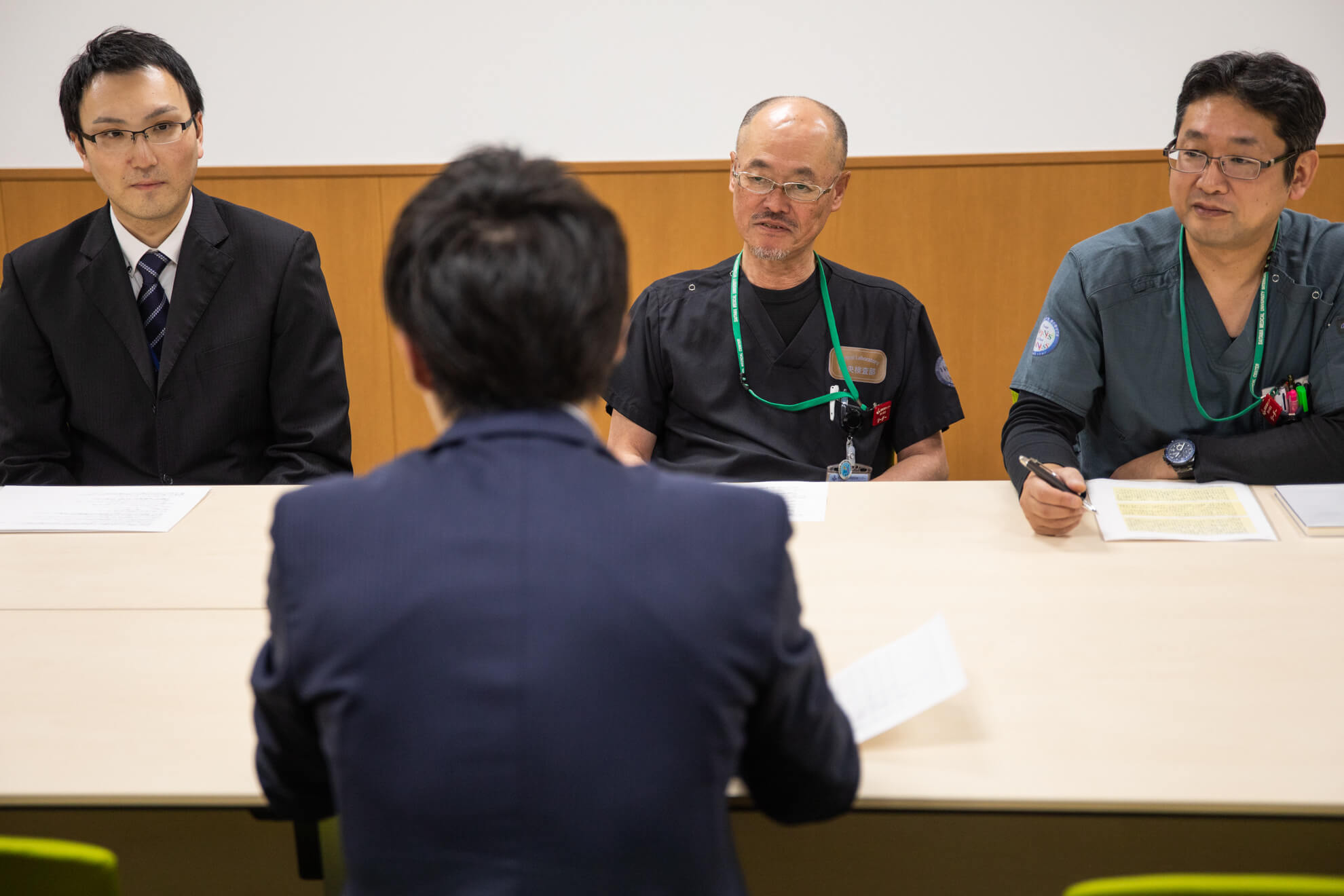 Q: Can you first give us a short introduction to the Saitama Medical University International Medical Center?
Mr. Yoshizawa: The International Medical Center covers the whole area of Saitama prefecture and is dedicated to providing advanced specialized medical care for such diseases as cancer and heart disease, as well as offering life-saving emergency medical treatment including cases of stroke. It is a 700-bed facility that was opened in April of 2007. The six-floor facility is made up of four wings A, B, D and E joined together around the central C building. Within the central building is located various testing rooms and laboratories, operation rooms, and a rehabilitation center; all accessible from each of the four wings. Our focus is on providing "patient-centered medical care" and making sure that the medical treatment given here is of the highest quality and meets the highest level of satisfaction and safety.
Q: Would you mind telling us the reasoning behind your decision to purchase our products for your automatic temperature monitoring system?
Mr. Yoshizawa: The International Medical Center has received accreditation from the Joint Commission International (JCI) a worldwide organization that accredits hospitals according to their internationally recognized standards for medical quality and patient safety. While in the process of re-accreditation, advice was given that one way to further improve safety and quality would be to implement a system for tracking the state of pharmaceuticals and other important items 365 days a year, 24 hours a day that included a warning notification of any abnormalities.
*NOTE What is the JCI?
JCI stands for "Joint Commission International" It is a third party organization headquartered in Chicago that evaluates the "medical quality improvement and patient safety" of medical facilities around the world according to their internationally recognized standards.
Assessment for accreditation includes 16 areas of evaluation with 304 standards and 1,218 criteria. The hospital's policies and procedures and system of patient viewpoint are evaluated and verification is carried out on how well everything is actually performed.
The standards of the JIC are considered to be one of the most stringent of any medical institute evaluation organization and reevaluation is carried out every three years with each time becoming stricter and stricter. The Saitama Medical University International Medical Center was the first university affiliated hospital in Japan to attain JCI accreditation. In total there are only 28 hospitals in Japan that have received such accreditation.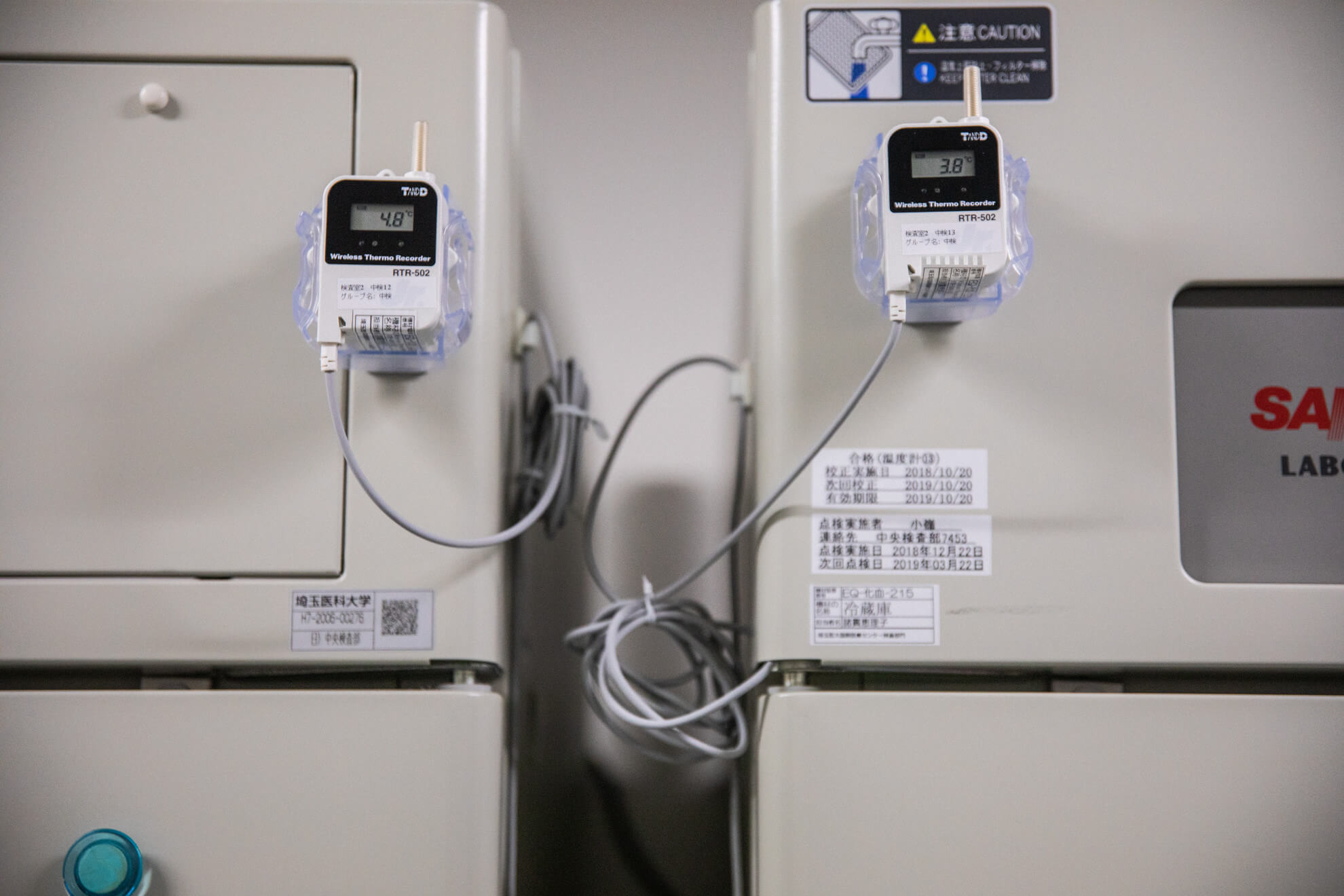 Q: So a temperature management system was necessary to get the JCI certification?
Mr. Makabe: No, it was not a requirement. However, pharmacists are required to ensure that all drugs are controlled from the time they are delivered to the hospital until they are administered to the patient; so they must be appropriately stored and monitored from arrival until use. Of course, during weekdays a pharmacist can easily administer proper management but there are times during the day, at night and especially during holidays when a pharmacist is not on the premises. During such times, we tried to make sure that nurses helped with the management, but sometimes due to work circumstances there occurred delayed responses, and it was difficult to maintain 24-hour tracking 365 days of the year. Therefore, we came to the conclusion that we needed a system that could not only track the conditions of the medicines and so on but could also monitor for abnormalities and send some immediate notification if any occurred.
Q: What kind of temperature management is required for JCI certification?
Mr. Makabe: JCI does not explicitly require any specific management method or system, but rather evaluates how hospitals under review properly and safely take, manage and store such data. The word "properly" is the important word here. The important thing for us is what methods and procedures we use and how we clarify how to deal with problems and unforeseen circumstances when it comes to medicines. Moreover, it is of the utmost importance that we provide this information to all staff members and that they have a clear understanding. The JIC evaluates us on these points.
As mentioned before, until now we regularly had monitored and recorded temperature data. But this time we particularly wanted to find a way to respond quickly to temperature abnormalities and moreover rigorously monitor data on a 24-hour basis. So we decided to introduce a systematic approach to check the management and storage of our medicines. How far we go to manage with such a high conscious is up to us. The International Medical Center, led by the pharmaceutical department, is dedicated to keeping drugs at the proper condition and maintaining quality from the time the drugs are delivered to the hospital until they are administered to patients; ensuring safety in the same way as with food.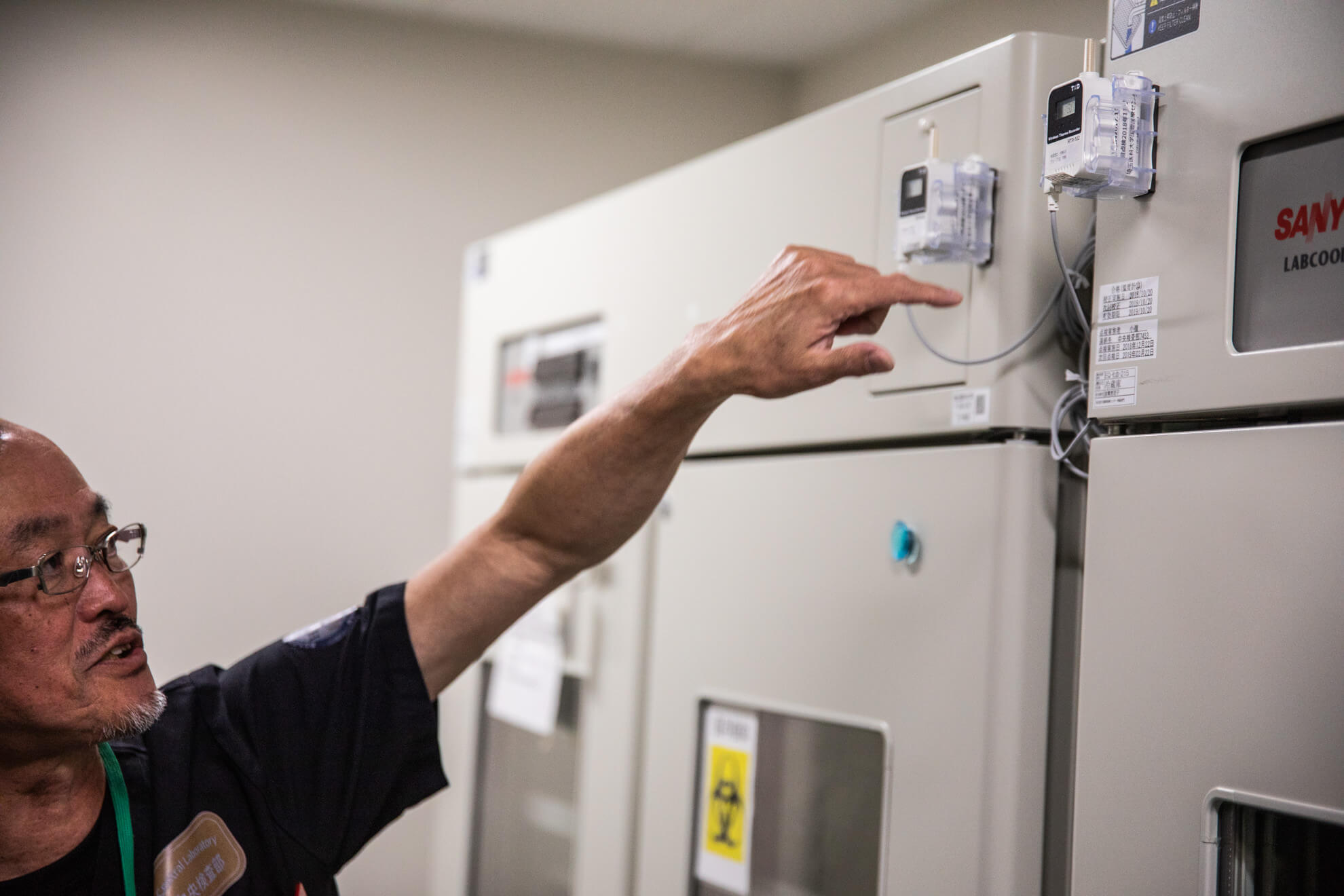 Q. How are things being carried out in the central laboratory?
Mr. Taji: The central clinical lab of course is covered under JIC and we also need to maintain international standards for ISO 15189 concerning quality and competence of medical labs, which is strict about temperature management. For example, they require the highs and lows of refrigeration units to be recorded every day. In addition blood products must be stored at between 2 and 6 C (35.6 – 42.8 F). In order to ensure the safety of reagents and blood products, the central clinical lab also needed to introduce a system for stricter temperature management.
*NOTE What is ISO 15189?
ISO 15189 is an international standard concerning the quality and competence of clinical laboratories and was established for laboratories dealing with human specimens. The requirements can be roughly divided into two parts. The first deals with management requirements including quality management systems, document management and internal auditing. The second part concerns requirements for education of personnel, the lab working environment and sets of technologies from sample collection to test reporting. The International Medical Center is making efforts to obtain ISO 15189.
Q: Can you tell us what points influenced you in selecting T&D data loggers over others?
Mr. Makabe: Well, there were several points but one major factor was that we had been using T&D loggers in the pharmaceutical department for drug trials.
Next, it met our requirements for constant monitoring and having warning notification upon any abnormality. Finally, the fact that we could use your cloud storage service "T&D WebStorage Service" free of charge played a large part in our decision.
Mr. Yoshizawa: I think that was a major factor. In the long term, the fact that "T&D WebStorage Service" is free of charge and running costs can be kept low set it apart from the others.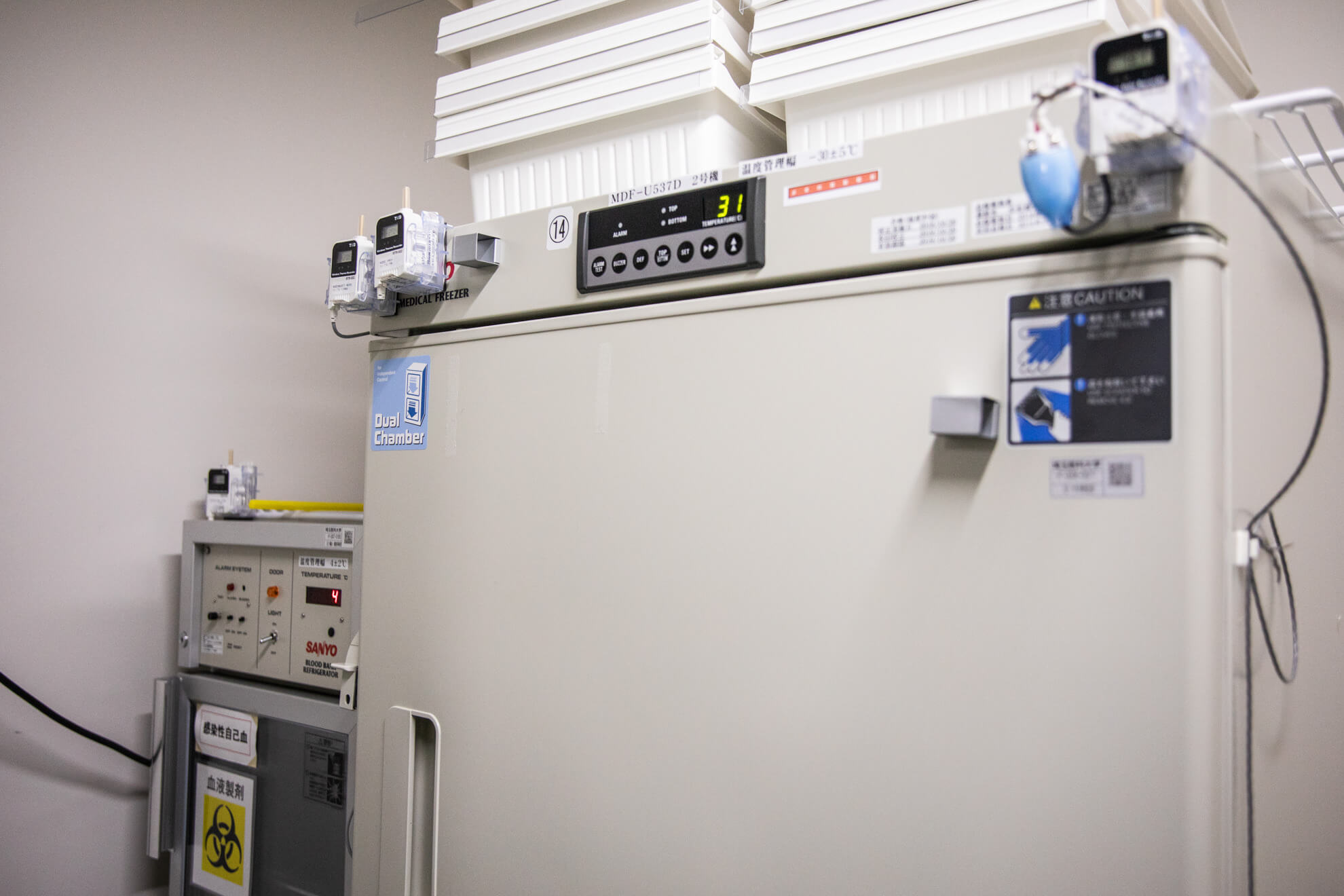 Q: If you don't mind, can you say a little about how temperature was managed before introducing our system?
Mr. Makabe: In the pharmaceutical department, twice a day, once in the morning and once at night, someone would check and log the temperature displayed on the refrigerator and on the stick thermometer placed in the refrigerator. However, with this method it was impossible to know if the temperature was out of range while the person in charge was not in the room. The temperature may have been fine when they checked the logger but there was no way to be certain when no one was there. Also, even though there was an alarm for when an abnormality occurred, it may not have been heard if no one was nearby. We recognized this as a major problem and decided we needed to make changes.  Hence we decided to introduce your system. This is the kind of thing that defines "proper" management.
Mr. Taji: The central lab was the same, twice a day, once in the morning and once at night, someone would check and log the temperature displayed on the refrigerator and on the temperature gauge placed in the refrigerator. For transfusions, more precise management is necessary so we also used the refrigeration unit self-recorders to log and check data. But, still, I felt that there was a problem with temperature management at night and during holidays.
Q: You are using a fairly large number of units, can you describe a little more about the actual items you are monitoring and logging temperature for?
Mr. Makabe: As was mentioned earlier, we are keeping track of temperature in pharmaceutical and specimen storage, in the deep freezers where blood is stored, operation rooms, and also in the freezers and refrigerators in the kitchens where food is prepared for our patients. There are also refrigerators for storing medicines in the outpatient clinic and in the hospital wards; all of these are collectively managed by the pharmaceutical department.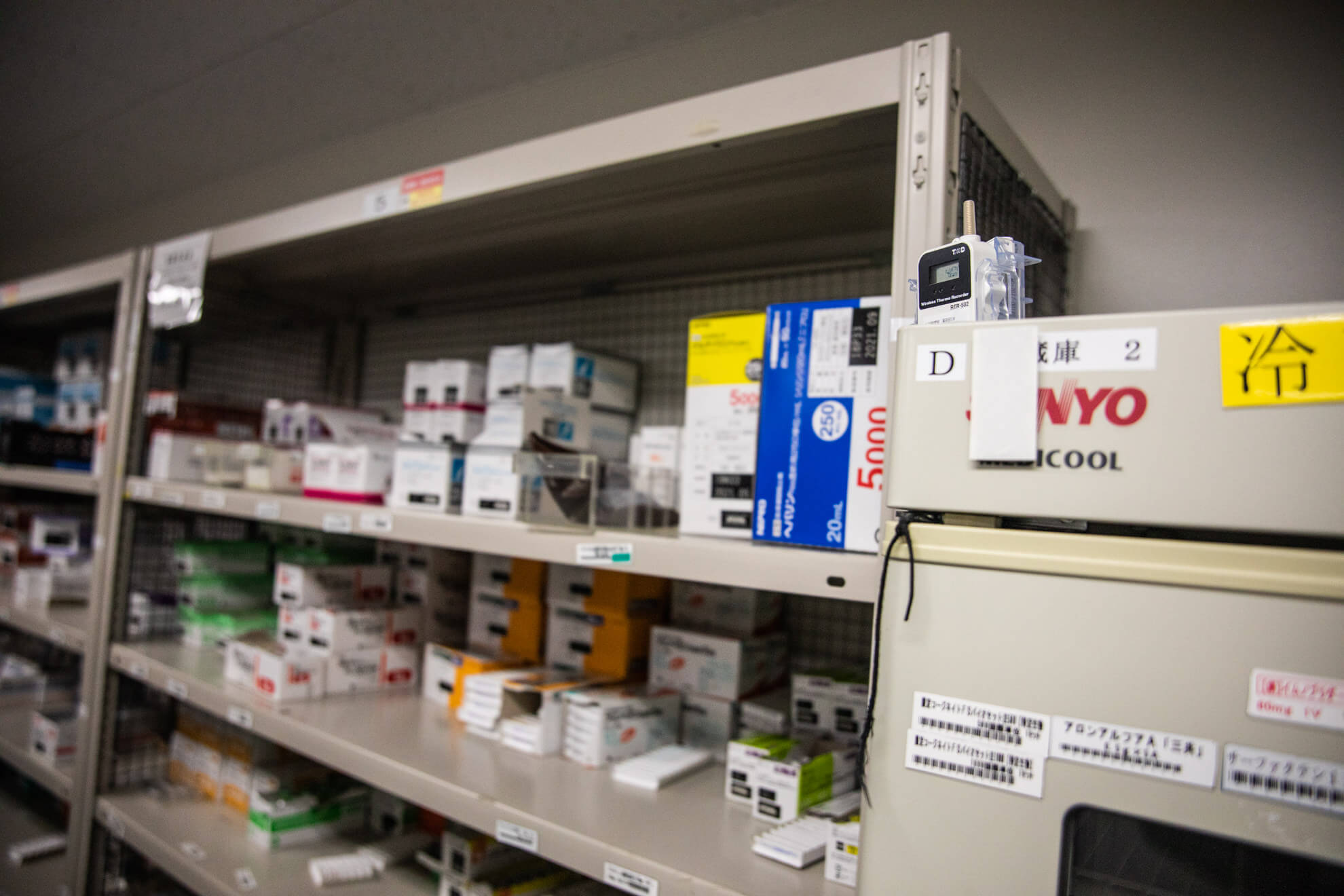 Q:  Can you give specifics as to how the units are installed and being used?
Mr. Makabe: The medicine storage units managed by the pharmaceutical department are located in designated places throughout this spacious hospital. At each of these designated locations we have placed an RTR-500NW network base station nearby the refrigeration unit along with RTR-502L temperature data loggers inside the unit. The data is then automatically sent via the hospital's internal LAN network to the free T&D WebStorage Service. The same goes for all the other departments as well with a similar setup in place. Each department has its own WebStorage account through which they can access and manage data.
We have the system setup so that every 10 minutes, current readings are sent to the WebStorage and every 24 hours the data for that 24 hours is automatically saved. Management of the data from all the different departments is made easy by the fact that all of the data from these many sources is uploaded via the LAN and collected in the cloud. Inside such a large place like this, if you went around and collected temperature data twice a day at all the locations it would be quite a burdensome task.
Mr. Yoshizawa: In addition, at places where there is always someone present, such as the pharmaceutical department and the central clinical lab we have warning alarm devices installed, but, in areas where no one is there during night we have installed a patrol light warning system in the disaster control center, so that we never miss an abnormality. Moreover, the color of the light informs the officers as to the location of the abnormality. Some departments also use the warning notification e-mail function to have e-mails sent directly to the person in charge.
Q: What are the merits and results of introducing T&D's system?
Mr. Makabe: We are now able to manage and monitor 24 hours a day, 365 days a year. And most importantly we are now able to instantly respond to any refrigeration failure or temperature abnormality.